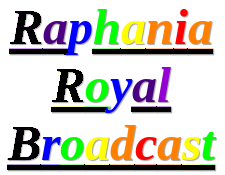 __________________________________________________________________________________________
View the latest and top news from Raphania, the
micronational community and the world at large!
________________________________________________________________________________________
TOP HEADLINES
08/25/23 - Viceroy announces state of colonial emergency while new reforms are underway.




10/25/22 - WAR! Raphania goes to war with Westarctica over Calsaharan claims.




10/13/22 - Raphania returns Royal Concession to USA, monarchs move into new royal residence.




08/14/22 - Raphanian website recieves major overhaul in formatting and appearance.




08/10/22 - Raphania continues work on construction of a national museum




8/08/22 - Grand Emir returns from successful summit at MicroCon2022 in Las Vegas, Nevada




7/5/22 Final preperations begin as Raphanian delegation makes ready for historic summit at MicroCon 2022 in Las Vegas, Nevada.




6/24/22 - Raphania is gifted new protectorate territory by the Commonwealth of Dracul.




5/17/22 - New anthem adopted by Raphania as His Majesty certifies referendum results.




5/16/22 - His Majesty the Grand Emir announced a National Anthem referendum to select a new anthem.




5/16/22 - April 12th has been designated as a national holiday to be known as "Revolution Day" in Raphania.




5/9/22 - Raphania appoints James Panton as new Public Health Minister.




5/3/22 - Raphanian government finally completes website after much delay.




5/3/22 - Raphania signs dipmolatic treaty with the Serene Republic of Saint Andre and Baccalieu.




5/2/22 - Raphania grows again through acquisition of small desert property in Arizona.




4/27/22 - Raphanian Discovery Corps forces successfully invade and annex Province of the Herenolia Coast.




4/23/22 - Grand Emir believed recovered from brief stomach illness.




4/22/22 - Raphania extends Diplomatic Welcome to Donetsk and Luhansk PRs.




4/22/22 - Raphania extends Diplomatic Welcome to Somaliland.




4/21/22 - Grand Emir confirmed sick with stomach virus.




4/19/22 - Work begins on Raphanian National Museum.




4/19/22 - Raphania set to attend MicroCon 2022.




4/18/22 - Raphania moves to build closer diplomatic ties to the Commonwealth of Dracul.
____________________________________________________